Hawaii's largest specialty hospital for women and children has opened its new, family-centered tower. The redesign of Kapi'olani Medical Center for Women & Children's (KMCWC) 4.4 acre campus and the new 260,000-square-foot Diamond Head Tower brings KMCWC a new scale and symbolic gravitas in its role protecting and nurturing new life within the community.
A new Neonatal Intensive Care Unit (NICU) and Pediatric Intensive Care Unit (PICU) highlight the new tower and KMCWC's motivation to provide the highest quality care and facilities to the patients in surrounding Honolulu. The new design adds 24 beds to the NICU, bringing the total to 70 private rooms sized for families. The PICU has tripled in size to 26 private acuity adaptable rooms.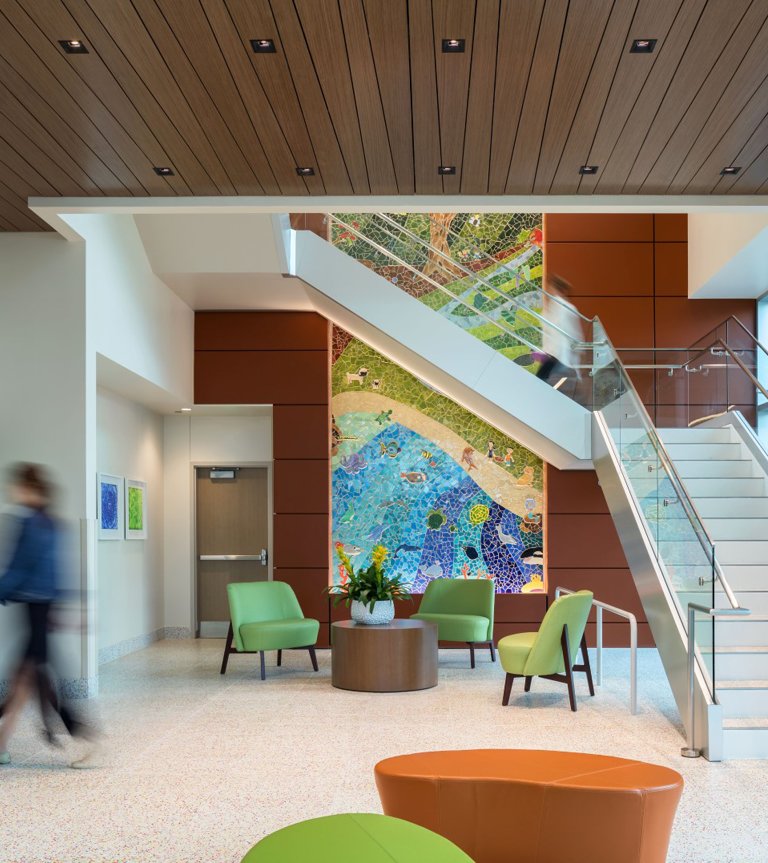 The Diamond Head Tower was designed by architecture firm HDR and Philpotts Interiors, working collaboratively with Layton Construction.
"Design decisions were guided by a strong focus on family-centered care and the ability for families to be together within the private patient rooms," said Bryan Nielsen, healthcare principal at HDR. "Clear separation of the flow of family and staff areas, family education space and living spaces, waiting areas and expanded play rooms definitely added to the focus of the project."
Segregation of patient type and patient flow are key to the design, co-locating all inpatients together in the new Diamond Head Tower, all outpatients on lower floors and all service and support functions on the lower level of the facility.
"We designed standardized, same-handed rooms where everything is located and stored in the same place in every room. Everything caregivers need to take care of the patient is right where they need it," said Cyndi McCullough, evidence-based design director at HDR. "The entire design has evidence-based design research to support it, and you get this great feeling when you walk inside. It's beautiful, it's functional and it's efficient."
Major improvements offered in the new space include adequately sized support and treatment spaces, on/off-stage concepts that segregate public and outpatient traffic from inpatient and support traffic, and private NICU rooms.
"Our team went through extensive training to ensure a smooth and seamless transition into the new facility," said Kapi'olani CEO Martha Smith in a press release. "This is something that we have been talking about and planning for years, and it's exciting to see it finally come to fruition. This new, state-of-the-art facility is providing our team with the tools to be able to offer the best possible care for the women and children of Hawaii."
Special care was taken to create familiarity, context and comfort for patients and their families through design and curation. Indigenous materials, locally crafted artwork and distinctive imagery connect the new facility with the island's people, customs and traditions.
An open, simulated wood panel "lei" surrounds the front door. A dark-colored vertical slab representing volcanic lava stone, symbolizes the traditional feather staff of Hawaiian royalty and features the hospital's guiding principle: "Strive for the highest."
Visit the Diamond Head Tower web page for more on the new addition.